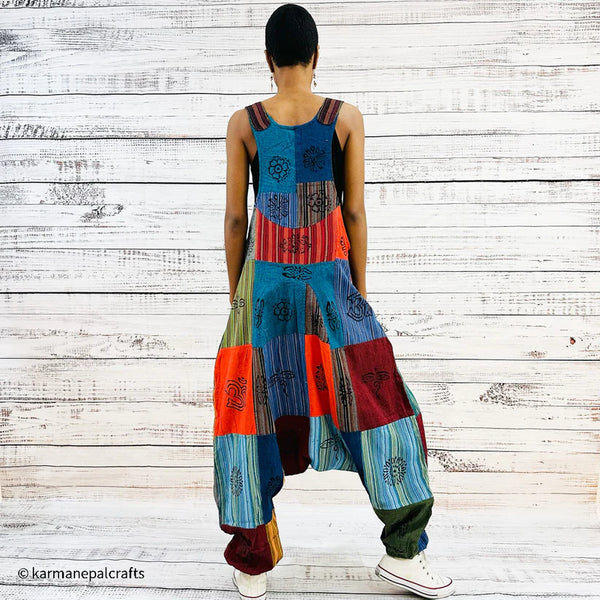 Cotton Patchwork Overalls
Handmade in Nepal

Material: Organic Cotton

Free Size

Adjustable Strap

Two side Pockets

Kangaroo Pouch at the front

Length can be adjusted as it has elastic in the bottom or you can even hike them under your knees for a different look

Total Length: Approx. 55"

Length of Strap: 13 " and can be adjusted to 8"

Hip: Approx.: 25" to 50"

Length from top to the longest middle part: Approx. 47"

Length from Shoulder to Crotch: Approx. 41"

They are baggy, drop crotch harem style with elasticated ankles.

This stylish and comfortable patchwork cotton overall is perfect for all seasons! Ideal for a range of looks, it features two side pockets, baggy and comfortable harem style, and a cotton dungarees patchwork look. Add a playful and stylish twist to any look with this multicolored bohemian pantsuit.
This Bohemian romper is possibly the most comfortable piece of clothing you will ever wear. These dungarees are perfect for casual wear, festivals, and night outs, made from first quality breathable super soft cotton fabric.
The patchwork is handmade and of which it can be a little different than in the pictures